第9回富山国際現代美術展「2022 ART/X/TOYAMA」の開催によせて
Akira Muratsubaki
Mayor of Uozu City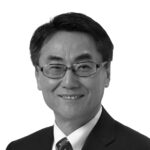 I was very happy to hear that the Toyama International Contemporary ArtvExhibition will be held here as "2022 ART/X/TOYAMA" after several yearsvof the cancellation of various events due to the spread of the COVID-19.
This exhibition is an international and energetic contemporary artvexhibition held once every four years, inviting artists from Japan and overseasvwho have their production sites in Toyama Prefecture, a regional city in thevmidst of a diversified contemporary art scene. This is the sixth time UozuvCity has hosted the exhibition since 2002, when it was first held as part of thev50th anniversary of Uozu City. This year marks the 70th anniversary of thevcity's incorporation, and it is significant that Uozu is able to host this exhibition again this year, as it has made contemporary art more accessible to its citizens.
Foreign artists from 10 countries will join in the event this year, and bring us many excellent work of art with originality. In the midst of advancing societal globalization, I expect that this exhibition, through its inherent passion and diversity of thought, will stream artistic energy from Uozu to the rest of the world.
During the event, not only visitors will be able to appreciate artwork, but also a wide range of exchange will take place in the form of symposiums, art sessions and workshops for children. As such, I firmly believe that the exhibition will contribute to developing local culture and rendering international culture more accessible.
Finally, I would like to voice my deep respect for the organizing committee and all persons involved, as well as a heartfelt wish that the exhibition will be a great success.